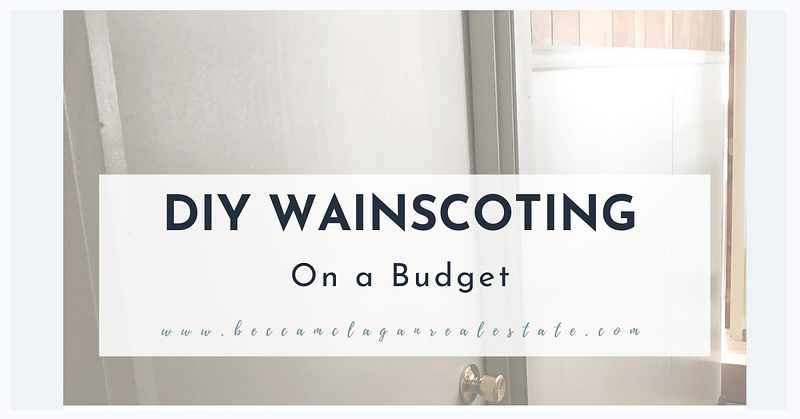 The DIY Hallway Wainscoting Project
DIY design projects can be tricky. I constantly find myself designing around these questions:
1) Can I do this project on my own?
2) Will I have to learn a new skill?
3) How much money do I have?
4) How much time do I have?
The answer to these four questions shape my design far more than actual tenants of interior design.
The thing with this DIY CRAZE that's sweeping the planet one pin at time, is that we also have to be realistic as to what we can do ourselves with the time and resources available.
To illustrate, I present to you the DIY Hallway Wainscoting Project. I chose to feature this project specifically for you, the one whose blood pressure rises with each DIY idea. You want to take on everything yourself, and you delude yourself into thinking it's possible. You want to make every corner of your home perfect and there's no rest until that's done.
Reminder: it's ok to start small, take some things off of your list, and to answer the four questions above with honesty.
I promise- you'll actually get MORE done. And you'll be happier doing it.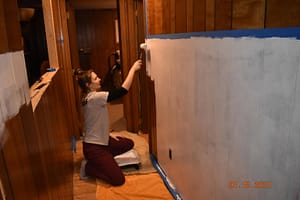 Rules and Parameters Can Help Your Design
The four questions above actually fit under one umbrella question: What Factors Must I Design Around?
Ok, I don't know if actual designer think like this. I'm sure the HGTV and Magnolia goddesses don't have to 'design around' anything. But for us earthlings, there are certain realities to consider.
Honestly- I THRIVE when given a set of parameters. I love the challenge of, "here are the rules on this one… now, go!" It's fun to see what magic I can create within the constraints.
So in this instance, the very first parameter of the DIY Hallway Wainscoting Project was my husband's insistence that we keep as much wood paneling as possible. Not real wood, mind you. Awful, orange-ish, ripply panels of plastic that are supposed to look like wood.
"Don't paint it all," he said.
"Curse you," I said.
But in the next breath, my creative juices started flowing. Give me a blank sheet of paper, and I panic-sweat. Give me an outline and a few rules, and I can't stop creating! I like a problem that needs solving.
And note that he never said I couldn't paint SOME of it. So the first weekend he was out of town and didn't know what I was up to, I got to work.
What Parameters Are You Working With?
This was parameter #1: the faux wood paneling must stay. I started imagining what a tall wainscoting might do to the space. I could brighten up much of the paneling without completely covering it. Possibly, we could strike a balance between the lodge-y look my husband likes, and the moments of light and airy that I knew the cabin needed.
My mind then jumped through the next four questions.
1. Could I do this project on my own? Hell yes! A little painting, a little trim work… boom.
2. Will I have to learn a new skill? Not really. I mean I hadn't used a power tool since before Miller was born, but it's probably like riding a bike, right?
3. How much money do I have? $0. Like, almost literally. I'm not too proud to admit that we are officially out of money for the Camp Miller renovation. But I could fork over a few pennies for scrap trim and paint.
4. How much time do I have? One weekend.
After a Little Problem/Solution Think Time… Get to Work!
I'm not sure if my process will evolve with time and practice (God I hope so), but I'll just admit right now that I am crabby-anxious all the way through a project. Until I'm able to step back and see that it's done and that it made an improvement, I'm a sour apple. Sour grapes? You get it.
The ONLY way to get past the anxiety, in my opinion, is to get to work. Action has a way of diffusing the stress. Probably because action negates over-thinking. You literally can't do both at the same time.
Once I had my plan in place, my mom and I worked straight through a weekend to get it done. We left work Friday, worked through the evening and all of Saturday. Sunday morning was a scramble to get the details finished. But praise-be the DIY Hallway Wainscoting Project was done in a weekend.
And I think it worked! Sure, some of you are quietly noticing the wood paneling in the after photos and thinking to yourself, "Hmmm… wood paneling… interesting choice." Remember: parameters. What you gonna do?
What I do know is that the space is SO MUCH lighter and more visually interesting. It brightens and warms the entire cabin up. The green is unique and plays off of the deep blue-green-gray kitchen color I created. I can't wait to hang up our artwork, antique snowshoes, and fishing rods. It's going to look very cabin appropriate.
More to Come
Camp Miller is almost ready for booking! You can direct message me or look on Airbnb and VRBO. Our cabin will be ready for your visit starting May 2021.
Until then, join my email list for more Before & Afters! Plus, you'll be the first to know about rental availability, local events, and cabin updates!
Much love,
Becca